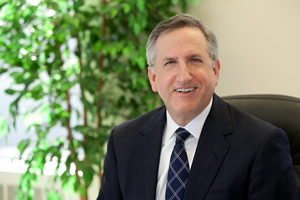 Jeffrey J. Pargament is a partner with Pargament & Hallowell, PLLC. Mr. Pargament has represented national and local clients on matters covering the spectrum of labor and employment law, including employment discrimination issues, wage and hour claims, union management relations, employee handbooks and policy manuals, harassment issues, workers' compensation, drug and alcohol testing, unemployment insurance, and affirmative action plans. Mr. Pargament also conducts training programs and employment law audits to ensure compliance with applicable laws. He also is frequently retained to undertake workplace investigations.
Mr. Pargament performs legal services for a cross section of clients including, but not limited to, trade associations, hospitals, nursing centers, financial institutions, government contractors, casinos, hotels, retail establishments, traveling entertainment shows, real estate companies, temporary staffing agencies, construction companies, security companies, and transportation firms.
Mr. Pargament frequently lectures to employers, business groups, and clients on a variety of labor and employment law subjects.  He has served as adjunct professor for Cornell University's School of Industrial and Labor Relations.
Mr. Pargament received his Bachelor of Science degree from Cornell University's School of Industrial and Labor Relations. Upon graduation from Cornell, he commenced employment with the National Labor Relations Board as a Field Examiner in Washington, D.C., where, for five years, he investigated and resolved discrimination charges and unfair labor practices, served as a hearing officer, and conducted union elections.
Following graduation from the George Washington University National Law Center, Mr. Pargament became associated with Akin, Gump, Strauss, Hauer & Feld, in Washington, D.C., where he was employed for over six years until 1991, when he joined Piliero, Mazza & Pargament, PLLC as a partner. In September 2006, he formed a new firm, Pargament & Hallowell, PLLC.
Mr. Pargament is admitted to the bar in Maryland and the District of Columbia, as well as numerous state and federal courts.  He is also a member of the ASAE & The Center for Association Leadership and is Chair of the Maryland Hospital Association. Mr. Pargament serves on the Board of Trustees for Adventist HealthCare, Inc., and is Vice Chair of Development, as well as Chairman of the Guardian Campaign Committee for the Hebrew Home of Greater Washington.